Nikola 'NiKo' Kovac Wins GreatGamers Gamer of the Year Award During a Ceremony in Cannes
Neeb has won in the RTS category, MenaRD is the new Sports Gamer of the Year, Ukrainian legend Dendi is elected best MOBA Player of 2017. Sjokz wins the Entertainer of the Year category.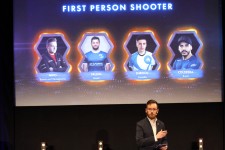 CANNES, France, February 27, 2018 (Newswire.com) - After three weeks of public voting at the Gamers Online platform, the GreatGamers Awards jury has chosen the winners in every category, as well as the Gamer of the Year, who were all presented during a Twitch-broadcast show in Cannes, France.
Led by the GreatGamers jury composed of 5-times CS:GO champion Stephanie "missharvey" Harvey, fighting games legend Daigo "The Beast" Umehara, head of ESL France Samy Ouerfelli, RTS top player Kevin "Harstem" De Koning and Jeff Houngoungagne, the GG Awards have announced the 2017 winners.
I am pretty proud of having being able to help GreatGamers to launch this ceremony... I am sure that this event will scale up next year. These kind of events shows the dynamism and the growth of the esports eco-system
During a ceremony held in the Palace of Festivals of the city of Cannes, France, the GreatGamers project has announced the winners:

NiKo is elected the Gamer of the Year for all games combined, after having also won both public and jury in the First-Person Shooter category, curated by missharvey.

"I think the best way to comment on this, is to quote this guy on reddit who wrote after we have posted the news on this election: 'Well, he is a god, so it's deserved,'" said Igor Lys, the GG founder.

Talking about the 10 initial nominees in the FPS category, missharvey stated: "Unfortunately, we could not get that much diversity in this category... Although I am a woman, we did not pick any girl in our category, which is something I am obviously really concerned about. That is something that is really important for me, and unfortunately, we did not find a female nominee who would fit the criteria for this category. I would like to see in the near future women compete with the guys that are top level, and to be in these GG Awards categories like FPS, MOBA and others."

MenaRD is given the prize of the best gamer in the Sports category, overseen by the "fighting games god" Daigo Umehara from Japan.

"This award is a new venture, aimed at elevating players who have impacted the gaming community, and shown that games have competitive and entertainment value that rivals that of sports," Umehara said.

Neeb is the RTS category winner. This young American won 3 WCS tournaments in 2017, and has recently finished third in the WCS Leipzig.

"I am happy to receive the GreatGamers FPS Award... It's nice to see my hard work recognized in this way. StarCraft has provided me with sense of purpose and motivation, which I think are one of the most powerful things in esports," he said in a brief message broadcast during the ceremony.

Ukrainian DOTA2 legend Dendi got the MOBA category prize.

"We have seen reactions on the Internet where people were literally saying, 'what? Dendi? He is a great guy but is irrelevant on the MOBA scene compared to guys like Miracle!' But when you think of it, I think there is certain sense in the fact that both the jury and the community have voted for Dendi. His performance still stays on an incredibly high level, and his role of the ambassador of esports is another important factor in that victory," says James Berry, GG ceremony host and head of jury relations.

In the Entertainer category, the award went to Eefje "Sjokz" Deeportere, famous host for RIOT Games, and maybe the most recognizable face not just of the League of Legends scene, but of global esports in general.

"I am so happy to receive this award for the Entertainer of the year! It really is a pleasure to make all these shows for all the viewers, every single week, and I hope to keep doing it," Sjokz said.

For more comments, interview and images requests, contact us at press@gamers.online.

Source: GreatGamers Awards International

Share:
---
Categories: Celebrities, Video Games, Entertainment
Tags: award, cannes, esport, esports, france
---
GreatGamers Awards
29 rue de Courcelles
Paris
75008
France