The Birth of the First Gamer-Focused eSports Award: GreatGamers to Be Launched in October
The world's first player-focused eSports award and a global eSports community website to be launched in October by a Paris-based international team of entrepreneurs.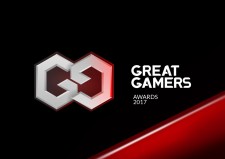 PARIS, October 10, 2017 (Newswire.com) - Keen on giving the eSports professionals the long-deserved glory of the world's greatest athletes, Paris-based international team of eSports enthusiasts has paired up with the industry's top names to launch GreatGamers, the world's first gamer-focused, community-driven prestigious award.
"We believe that the core eSports values, like respect, sportsmanship, hard work and great fun have to find their global ambassadors, people who would become as globally recognized as Ronaldo or Messi are in football. This is why we have created this unique award, given at the end of a balanced voting procedure involving both the community and the experts," explains Igor Lys, French entrepreneur and MOBA player behind the project.
GreatGamers features a combined vote where public and the prestigious jury of uncontested eSports professionals will join their efforts to elect the best of the best in five categories — MOBA, RTS, FPS, Sports and Entertainer — and, ultimately, the Gamer of the Year. The twenty finalists, four per each category, will then be invited to France to assist in a prestigious ceremony that will take place end February 2018, at a location that will be separately announced in the weeks to come, but the founders hint that it will be a "globally recognized symbol of prestige." Those nominees will be announced in London in mid-November 2017.
"You can be sure that GreatGamers will be a huge leap forward to the global recognition of eSports as a real discipline of mastership. Our goal is not to enforce a star-system onto the professional gaming industry, but rather to unite all gamers in the world around this idea of struggling to be the best, all games combined. We have a lot of positive echo in the industry about this concept, and we believe it will become, with years, the eSports analog of the Oscar ceremony," says James Berry, the project's head of Jury and Player relations.
GreatGamers is planning to launch in November its international online platform, called "Gamers.Online," that will allow gamers worldwide to vote for their idols, but also exchange news, tips and build sub-communities around user-generated content linked to games, places, and events.
The Jury of the first edition of the Award Ceremony will be announced in the weeks to come. The total of five eSports experts from across the globe, backed by another ten sidekicks will ensure the perfect choice of nominees submitted to the community vote.
Prior to the full-scale official launch, scheduled end October 2017, GreatGamers invites all the gamers in the world to share their opinion and give their thoughts on the project's official Twitter and Facebook pages, @FollowGGAward.
GreatGamers is an international eSports award and a global community built around it. For any inquiries, questions and requests, please contact us at press@gamers.online or by phone:
+33 6 79 50 50 56
Source: GreatGamers Awards International
Share:
---
Categories: Celebrities, Internet and Streaming Media, Video Games, Arts and Entertainment
Tags: ceremony, esports, france, gamers, games, prestige, video
---
GreatGamers Awards
29 rue de Courcelles
Paris
75008
France